Flooring Choices – Serving your clients better
Date posted
December 18, 2018
Floor covering can make or break a project. I learned this in fourteen years as CEO of J.J. Haines, the nation's largest floor covering distributor. The age of the internet makes it very difficult to stay ahead of your clients. You must deal with homeowners who sometimes are more expert than you. Or, think they are. The proliferation of new flooring products, like LVT, make it difficult for you to stay up to date. In the end, you need some degree of expertise and command of the lingo.
​
What is LVT and what are the different types?
​
LVT stands for Luxury Vinyl Tile. However, LVT is just an umbrella term. It encompasses three primary types of products. Flexible LVT and two multi-layer products, WPC and SPC.
​
Flexible LVT is the original form of LVT and it is a vinyl flooring in a tile format or plank. LVP, or Luxury Vinyl Plank, is in a plank or strip format like wood flooring. Flexible LVT and LVP are made of vinyl with an image layer and a protective layer. The image layer allows the product to look like anything such as ceramic tile, stone, wood, etc. The vinyl comes in various thicknesses. It is basically flexible. The protective layer provides scratch resistance, etc.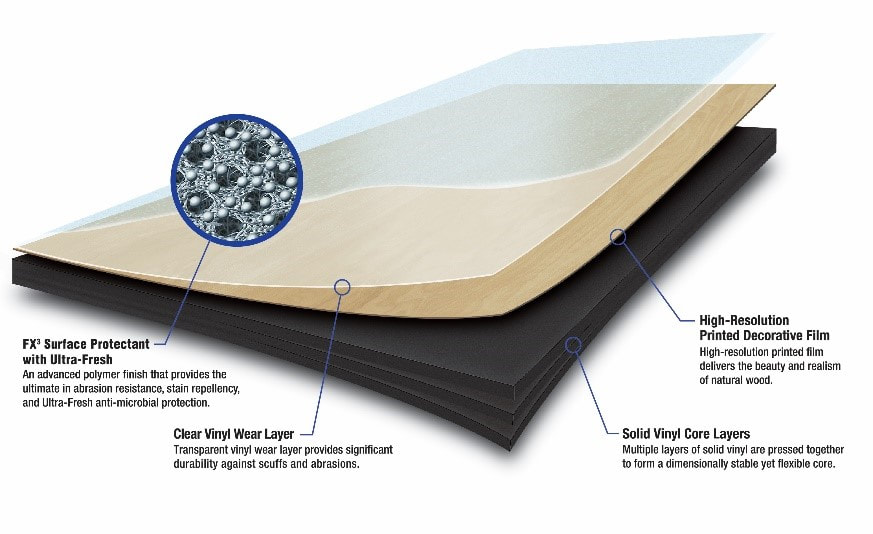 WPC is a second generation LVT and is technically referred to as "wood/polymer" core. It is one of the two multi-layer LVT types and comes in tile and plank formats. WPC's layers include vinyl, thermoplastic, air, calcium carbonate and wood flour. It can look like wood, ceramic tile or stone. It is thicker than Flexible LVT and is "waterproof." Being thicker, it can be used on a wider variety of sub floors.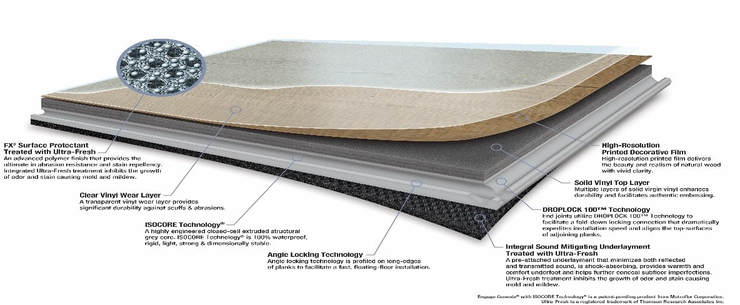 SPC is the third generation LVT and is a multi-layer LVT with a "solid" polymer core. That means it is more rigid and is often referred to as "rigid core." In a plank format it has the heft of wood. Like WPC, it usually looks like wood, ceramic tile or stone. SPC, being more rigid, it is more durable. Like WPC, SPC can be used on a variety of substrates with less preparation than what is needed for Flexible LVT or LVP.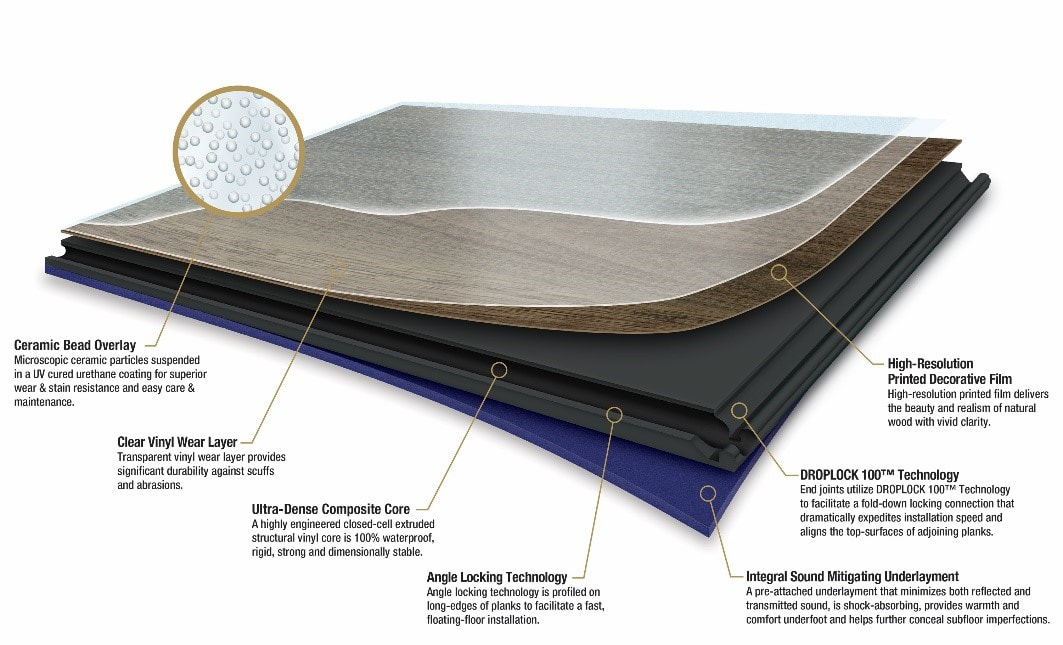 The problem is that marketing language will typically not identify the LVT type. So, it is important for you to understand the performance benefits of any LVT. Is it truly waterproof or water-resistant? What exactly is the spec? What is the dent, scratch and stain resistance? What does it sound like when walked on? Some LVT types are sold with pad attached underneath.
​
There are many good flooring product choices
Flooring is a fashion and function product with many options to fit any need and wallet. Common considerations when deciding on a flooring type are: dogs, cats, kids, beach sand, mud tracked in, heavy foot traffic, warmth, coziness, unique look, stylish, open floor plan, uni-look floor level, non-slip, etc.
The two most popular floor coverings for homeowners are wood and tile (ceramic/porcelain). Wood is now used throughout the entire house. Anywhere. Even in kitchens and bathrooms when the homeowner isn't worried too much about it being "wet." Tile is a close favorite but with more limited room applications.
​
Solid wood is at the highest end and is the flooring that lasts the longest. It can be customized in terms of species and stain to match any palette desired, and it can be sanded and refinished. It tends to be more popular with wealthier people and in climates conducive to it, such as northern climes.
Engineered wood is used more than solid wood primarily because of its lower cost and easier installation. It comes in various installation modes, thicknesses, number and types of layers, lengths, widths, species of wood, colors, and "textures" such as distressed, hand scrapped, oil finished, etc. The variety of products and prices is extremely broad. It is often used in southern climes where solid wood might have problems with the humidity.
Tile (ceramic and porcelain) is extremely popular in kitchens, bathrooms and laundry areas but is used throughout the first floor and on the second floor in very hot and humid climes. The looks and sizes have changed a lot in the past few years to include larger formats, wood looks and plank format. European looks at U.S. prices are available.
Carpet is not as popular as it once was but is still a top product in bedrooms. Carpet has changed. There are many types of carpet fibers, feels, looks and features such as low odor and easy-clean for pets, microbe-resistant, easy to clean, etc. There are plenty of wonderful carpets to choose from.
Traditional vinyl and Laminate have places in residential remodeling, especially if the budget is a big problem. Both are choices for basements, playrooms, mud rooms, laundry areas, etc. Laminate is easy to install albeit it can sound "hollow" and loud without proper underlayment. There are some very good high-end laminates, and some are now "waterproof." Traditional vinyl is a very affordable choice and it comes in new looks with new features such as more stain and scratch resistance.
​
Helping Your Clients
You want to have a collaborative experience with your homeowner client but don't want to lose control of the floor covering decision. You don't want the risk of the client dictating products which either won't work, aren't in your wheelhouse or deny you a reasonable profit.
​
Get ahead of the decision by listening to the client but showing your flooring expertise. You will probably bring in your flooring expert. There are plenty of sites you can find on the internet to do research, and your network and associations help. I recommend these resources: Floor Covering News, Floor Covering Weekly, Floor Focus, The National Wood Flooring Association (NWFA), and Why Tile, the Tile Industry's site.
---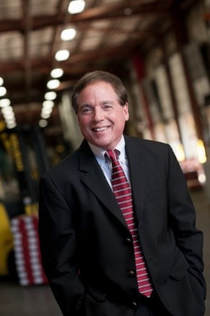 Bruce Zwicker is the former CEO of J.J. Haines, the nation's largest floor covering distributor. Bruce currently is an advisor to domestic and international flooring companies. He has worked with DOMOTEX in Hannover, Germany, Shanghai, China, and is a member of the DOMOTEX USA Attendee Advisory Board.
Click the button below to learn more about the DOMOTEX USA flooring show coming to Atlanta in February 2019. NARI Atlanta members can attend for free using promo code: NARIATL19.