Contractor of the Year Awards
NARI members are encouraged to compete for the prestigious CotY Awards, honoring achievements in remodeling.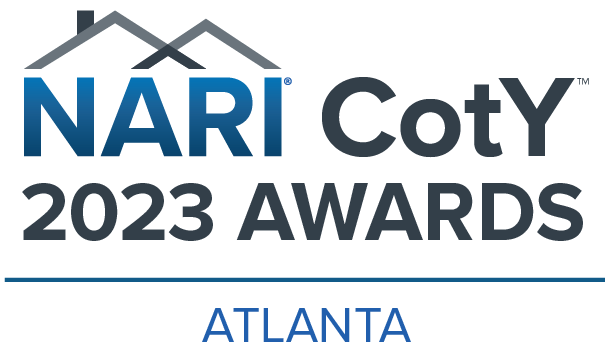 What Are the CotY Awards?
The Contractor of the Year (CotY) Awards is an esteemed competition organized by NARI and its Chapters, recognizing outstanding achievements in the remodeling industry. Contractors and their team members compete in various categories, showcasing their remarkable work in remodeling improvements, additions, and elements added to existing homes or commercial buildings.
Entries undergo meticulous evaluation by an impartial panel of industry experts. Each entry is judged based on a comprehensive presentation that includes captivating "before and after" photography, project details, client needs analysis, design, and technical descriptions. The judging criteria emphasize problem-solving abilities, functionality, aesthetics, craftsmanship, innovation, and difficulty level.
The CotY Awards program comprises three levels of recognition:
Local CotY Awards: Presented by local NARI chapters, these awards highlight excellence among the chapter's members. Atlanta entries open in July, and the winners will be announced in November.

Local CotY

Award competitions are not affiliated with the Regional/National competition. You can enter only the Local competition or only the Regional/National competition. If you want to enter the same project into both competitions, you must do so individually and you must pay separate entry fees. Additionally, your project does not have to win the Local

CotY

Award in order to be eligible for the Regional/National competition.

Regional CotY Awards:

Under the supervision of

NARI's

national office, NARI members from across the country can enter p

rojects into the National

CotY

Awards program in more than 45 categories. W

inners are selected from entries submitted within the seven established geographic regions nationwide.

R

egional category winners are announced mid-winter.

Entries open in October.

National CotY Awards:

The premier recognition program for the remodeling industry, these awards are presented by

NARI

to its members.

One National

CotY

winner is selected from the Regional winners in each category. Winners are announced in the spring.
The CotY Awards celebrate NARI members' remarkable accomplishments and exceptional talent. By participating in this prestigious competition, entrants gain recognition, exposure, and validation for their outstanding work in the remodeling industry.
view the 2022 Atlanta coty award winners
---
How to enter the CotY Awards
Read the official rules and requirements to learn how to prepare your files for online submission. The entry submission period is July 1, 2023, to September 24, 2023, at 11:59 pm EST. The Entry Fee and Team Member entry fee are paid after you have completed your submission(s) and are due within the entry submission period.
Pathway to CotY
Insider Secrets to an Outstanding Submission
The Pathway to CotY newsletter is your go-to resource for insider tips and guidance on creating an outstanding CotY Awards submission. Packed with valuable insights and expert advice, this resource will equip you with the knowledge and strategies to showcase your remodeling projects in the best light. View the newsletters to access the latest issue and unlock the secrets to a winning entry!

---
Official CotY Rules-NARI Atlanta
Essential guidelines and regulations for participating in the awards program are detailed here and available to download. Please familiarize yourself with these rules to ensure a smooth and fair competition. Note: The official rules for Regional/National CotY Awards administered by NARI National may differ.
The entry submission period is July 1, 2023, to September 24, 2023.
Eligibility
Must be a NARI member in good standing to participate.
New entries only; projects that have been submitted to the Atlanta Chapter competition previously are not allowed.
2023 Project completion date range:

Atlanta Chapter: 7/1/21 to 9/23/23
National: 12/1/21 to 11/30/23 (see FAQs for more info)

The project must be an improvement or addition to an existing structure (with the exception of Residential Detached Structure).
Other NARI member companies that worked on the project should be included as Team Members.
Only projects within the acknowledged Metro-Atlanta area (or within the metro area of the entrant company's business address) are eligible.
Requirements
The NARI member who enters must have project oversight authority. This does not apply to the Interior Feature category.
Project costs must include all fees (designer, subcontractor, project owner, sweat equity, etc.)
Entry fees are non-refundable, non-transferable, and cannot be carried over to subsequent years.

Entry fee: $175
Team Member fee: $75

Each category submission requires a Project Summary, Photos, a Presentation, and Signed Forms.
The Project Summary
Entrants must provide a Project Summary, 100 words or less, submitted during the online entry process. This is in addition to the presentation file. The same project summary can also be used in the Presentation.
Before & After Photos
The Presentation uses these images to provide a visual narrative of the project's journey, demonstrate expertise, allow for direct comparison, and serve as tangible evidence of success, leaving a lasting impression on judges.
Before & After photos are not required for the Interior Feature category.
Before and after photos must be uploaded individually in the online entry submission (these are for use in the awards night slideshow and on social and print media).
The format must be .jpg or .jpeg
Minimum size 1200x1800 pixels, no larger than 12MB each
Photo enhancement is limited to brightness, contrast, or sharpness adjustments only. Avoid adding or removing items or making any alterations that may impact the project's perceived value.
Photos cannot contain anything that could identify the entrant company, homeowner/client, etc. (This includes but is not limited to: faces, logos, yard signs, etc.)
Minimum of 10 images is required on upload (up to 20 images). If the minimum is not reached, repeat one of the images to meet the upload requirements.
Presentation
The judges will only review the Presentation file that you upload. It is strictly prohibited to include any NARI member's or project owner's company name, logo, individuals, or any other identifiable information in the Presentation, images, or filenames.
A separate entry and Presentation file is required for each category if a large project, like an Entire House, is entered into multiple categories. Each Presentation should accurately reflect the cost associated with that specific category.
File Format

The file must be submitted in PDF format.
Up to 30 pages and a maximum file size of 20MB

Content

A category title page can include the Project Summary.
A Project Summary that summarizes the project in 100 words or less.
Drawings/floor plans with concise captions to show before/after; not required to be scaled.
Before & After Photos with concise captions for each.
Signed Forms
When submitting your entry, including the required signed forms is essential to ensure a complete and valid submission.
Project Owner Agreement
Photographer's Release
File Naming
Including any NARI member's company, project owner's name, individual's name, or any other identifiable information in the submitted filenames is strictly prohibited.
Feel free to use the suggested file naming instructions below:
Start with the entry category abbreviation: Begin the file name with a shortened abbreviation representing the specific entry category. (e.g., KIT for Residential Kitchen, COM for Commercial, LAN for Landscape Design)
Specify the file content: Provide a brief but clear description of the file content to identify its purpose easily. Use underscores (_) to separate words. (e.g., BeforePhoto, AfterPhoto, Presentation, ProjOwner, Photog)
Indicate the file format: Include the file format extension to denote the file type. Use standard file extensions such as .jpg or .pdf.
Example: KIT_Presentation.PDF, KIT_BeforePhoto1.jpg
---
CotY Award Categories
In 2023, a task force of NARI members from across the country came together to focus on the Contractor of the Year (CotY) Awards program. Among several goals, the group explored ways to refresh the list of CotY categories. Some changes include updating the price ranges for the Kitchen, Bath, and Residential Addition categories, and eliminating others such as the Green categories. Please note that price ranges in some categories in the Atlanta CotY Awards competition may differ slightly from the National competition.
Residential Kitchen
Residential Bath
Residential Interior
Residential Interior Feature
Residential Addition
Residential Exterior
Residential Detached Structure
Entire House
Residential Historical Renovation/Restoration
Commercial Interior
Commercial Exterior
Residential Landscape Design/Outdoor Living
Basement
Universal Design – Kitchen
Universal Design – Bath
Universal Design – Other
*Please download the full category list for detailed descriptions and price range information.
download award categories list
---
What is the CotY judging process?
This is the judging process for the Atlanta Chapter CotY Awards competition. The judging process for Regional/National CotY Awards administered by NARI National may differ. Only active NARI Members are eligible to serve as judges, and they cannot judge entries from their Chapter.
NARI Atlanta staff provides judges access to the Presentation entries and exclusively manages communication with the judges.
A minimum of 3 judges review each entry, and the same panel reviews all entries within a category.
The judges' scores are tallied, and the winning entry is determined based on the highest average score. There is no winner if the highest average score does not meet the minimum required score for the category.
Categories with only one entry are judged using the same process.
The judging period for the 2023 competition is scheduled from September 25, 2023, to October 13, 2023.
---
FAQs
The
entry fee
for the CotY Awards is $175 per entry. In addition, there is a fee of $75 per Team Member if you include team members in your entry. The entry fees are separate from the entry submission and should be paid within the entry submission period.
Yes, you can enter the same project in multiple categories as long as it meets the criteria for each category. Make sure to tailor your
presentation
and supporting materials to highlight the relevant aspects of the project for each category according to the
Rules
.
Compress Images: Large images within your presentation can significantly contribute to the file size. Resize and compress the images to reduce their resolution and quality without compromising visual clarity. You can use various image editing software or online tools to achieve this.
Use PDF Compression Tools: Several online and offline tools are specifically designed to compress PDF files. These tools use different compression algorithms to reduce the size of the PDF without sacrificing too much quality. Some popular free options include Smallpdf and Adobe PDF Compressor.
There are several online services available that specialize in compressing image files. Some popular options include
TinyPNG
,
CompressJPEG
, and
Optimizilla
. On these sites you will upload your images and download the compressed, smaller file size version.
The winners of the CotY Awards are selected through a judging process. Each entry is reviewed by a panel of judges, typically at least three judges per entry, who evaluate the entries based on specific criteria and assign scores. The entry with the highest average score in each category is determined as the winner. A winner is only selected if the highest average score meets the minimum required score for the category.