Contractor of the Year Awards
NARI members are encouraged to compete for the prestigious CotY Awards, honoring achievements in remodeling.

---
What Are the CotY Awards?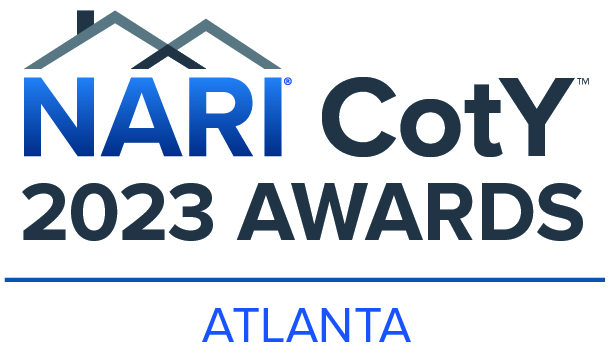 NARI Atlanta contractors and their team members vie for the prestigious Contractor of the Year (CotY) Awards on an annual basis. Remodeling improvements, additions or elements added to an existing home, historical, or commercial structure can be submitted in over 40 Categories.
An impartial panel of judges, who are experts within the industry, score each entry based on the entry presentation, which includes "before and after" photography, project details, client needs analysis, design, and technical descriptions. Judging focuses on problem solving, functionality, aesthetics, craftsmanship, innovation, and degree of difficulty.
NARI Atlanta CotY entrants also have an opportunity to enter their projects for Regional Awards. The Atlanta competition project completion dates are: July 1, 2021 - September 23, 2023. (The NARI Regional competition project completion dates are: December 1, 2021 - November 30, 2023.)
---
Who is Eligible to Submit?
NARI members in good standing are eligible to participate.

The entrant company must be the company that had complete oversight and supervisory
responsibilities for the work completed (not applicable for specialty entries).

Other NARI member companies that worked on the project should be included as Team Members.
---
How Do I Enter?
Create a presentation (max 30 pages) that outlines the project goals and highlights the transformation you achieved.

Include architectural drawings, before and after photos and any other relevant project information.
Click below to view examples of winning entry presentations:

Write a project summary in 100 words or less.
Complete and upload the Client-Contractor Agreement and Photo Release forms.
Submit your presentation, project summary, entry fee and additional supporting documents via the online submission portal by September 24th at 11:59 pm.

Fees: $175 per entry; $75 per Team Member, per entry
Detailed requirements, submission instructions, helpful tips, and required forms can be found on the submission portal homepage.
The submission period is July 1 - September 24, 2023
---
What is the Judging Process?
After your completed entry has been submitted and entry fees paid, Atlanta Chapter staff will audit your entry to confirm that all the necessary forms/information are included and to ensure that nothing has been included that might disqualify your entry.

You will be contacted if you need to add or remove something from your entry. If you do not hear from a NARI Atlanta staff person after submitting your entry and before judging begins, then your entry has passed the audit stage.

Chapter staff have access to submissions and deal exclusively with judges. Atlanta Chapter Members who volunteer to assist with the administration of the competition are not eligible to submit entries in the Atlanta Chapter competition.

Only Active NARI Members can serve as judges and they are not allowed to judge entries from their own chapter.

Each entry will be judged by a minimum of 3 judges and the same judging panel will review all entries in the same category.

The judges scores are tallied and the highest average score determines the winning entry. If the highest average score does not meet the minimum required score for the category, then there is not a winner.

Categories with only one entry are judged following the same process.

Click here to see the questions judges will be asked and what criteria they will be looking for in your submission.



The judging period is Sept. 25 - Oct. 13, 2023.
This is the judging process for the Atlanta Chapter CotY Awards. The judging process for Regional/National CotY Awards, administered by NARI National, may differ.
---
Making a Great CotY Submission
Here are some helpful tips on submitting an entry worthy of receiving a CotY Award. You want to take the judges on a journey of your remodeling project through your presentation. Include all elements to allow the judges to fully understand the details of your remarkable remodeling transformation. Check out the Pathway to CotY for additional tips and tricks.
Be sure to include:
a project statement describing what the client wanted and what was done
before and after pictures (best from the same angle)
high quality photos (pay attention to details)
diagrams and plans (clean and legible)
succinct and concise descriptions or captions
Sample Award-Winning Submissions
---
So, you want to enter the CotY Awards but you're overwhelmed with all the details and requirements? Watch this short video highlighting how to include the most important pieces of your presentation, from NARI Atlanta member Sourced.
---