Contractor of the Year Awards
NARI members are encouraged to compete for the prestigious CotY Awards, recognizing achievements for remodeling projects.
What Are the CotY Awards?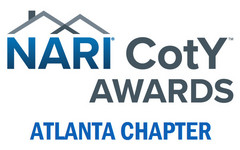 NARI Atlanta contractors and their team members vie for the prestigious Contractor of the Year (CotY) Awards on an annual basis. Remodeling improvements, additions or elements added to an existing home, historical or commercial structure are submitted in 48 Categories.
An impartial panel of judges, who are experts within the industry and associated fields, select winners based on each entrants presentation, which includes "before and after" photography, project details, client needs analysis, design, and technical descriptions. Judging focuses on problem solving, functionality, aesthetics, craftsmanship, innovation, degree of difficulty and quality of entry presentation.
NARI Atlanta CotY entrants also have an opportunity to enter their projects for NARI Regional and National awards. The Atlanta competition project completion dates are: July 1, 2017 - October 27, 2019. (The NARI National competition project completion dates are: December 1, 2017 - November 30, 2019.)
Click here to view the 2019-2020 UPDATED CotY Award Categories
The submission period is July 1 - October 28, 2019
---
Making a Great CotY Submission
Want to get a head start on your CotY submission? Check out these tips from NARI Atlanta member, Sourced!
---