Back to Support NARI Atlanta
Enhanced Website Listing
Magazine/Directory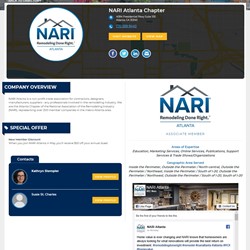 The Digital Magazine & Directory links to your company's website profile.
Your enhanced listing will display:
your company logo
your company bio
staff/employees
website
your listing will always appear at the top of the online NARI Atlanta directory and search results
You also have the option to add your social media accounts, so visitors to the site can follow you! Click here to update your company profile.
This is an optional feature and will be renewed annually with your membership dues.
---