Back to Events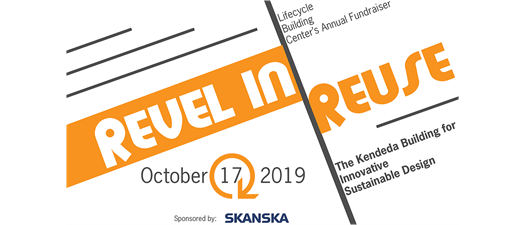 Revel in Reuse - Lifecycle Building Center's Annual Fundraiser
Be a part of the change and Revel in Reuse!
Thursday, October 17, 2019
Event Details
Lifecycle Building Center invites the public to Revel in Reuse, an annual fundraiser to support and celebrate the vital work of LBC to promote environmental stewardship and community resilience by creating a sustainable lifecycle for the built environment.

For the first time in its history, Revel in Reuse will take place within a building where LBC supplied expertise through the reclamation and reuse of valuable materials as a project partner--The Kendeda Building for Innovative Sustainable Design at Georgia Tech. The event is presented by Skanska which served as general contractor for the project.
Event Details
​6pm Rooftop VIP Reception
Sponsors and Host Committee members will enjoy spectacular views of the Atlanta skyline and an intimate conversation with project leaders and investors. Brief comments provided by: LBC leadership, Skanska leadership, and sustainability experts John Lanier, Ray C. Anderson Foundation and Dennis Creech, Kendeda Fund.
Sip champagne while learning the inside stories behind this modern architectural marvel.
7pm General Admission
Enjoy tours highlighting the building materials provided by Lifecycle Building Center as well as light bites, cocktails, a silent auction, games, and music.