Back to Events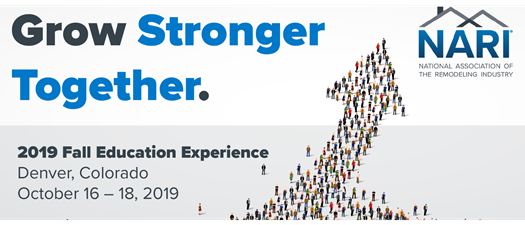 Fall Education Experience
Denver, Colorado
Wednesday, October 16, 2019
to Friday, October 18, 2019
Event Details
Delivering Customer Experience Excellence
Are you interested in growing your business and improving profitability? Acquiring new clients is hard work, takes time, energy and money. Keeping the clients you have will not only benefit your company when they return for additional work, but the referrals they provide are priceless.
This year NARI is hosting the 2019 Fall Education Experience in Denver, Colorado. We have an amazing line up of speakers. Thursday and Friday will include in-depth presentations on how to deliver customer experience excellence for your business.
FEATURED SPEAKERS
David Lupberger
Managing the Custom Remodeling Process: Understanding and Guiding an Exceptional Homeowner Experience
Shawn McCadden
Engineering and Delivering a Great Customer Experience
Paul Neuberger
Everybody's an Entrepreneur
Peg Buehrle & Pete McDowell 
Creating a Culture of Customer Service
Christopher Kuehl, PhD
Economic Update for the Remodeling Industry
For More Information:
REGISTER EARLY & SAVE
Register and book your hotel room by 9/24 and get the Early Bird rate and the room block reduced hotel room rate.
Early bird until 9/24 – Member $89
Standard until 10/15 – Member $129
Onsite – Member $189
HOTEL INFORMATION
The Warwick Hotel - 1776 N. Grant Street, Denver, Colorado 80203
Rate of $205 plus applicable taxes for single and double occupancy.
Group rate is good through September 24, 2019
Reservation details will be sent in your registration confirmation.
MEETING SCHEDULE
See the schedule of events and start planning your trip.
The House of Delegates will meet on Thursday, October 17 at 8 AM. Don't miss this bi-annual meeting.